VAAU:
Guidelines for video conferences at AAU
Introduction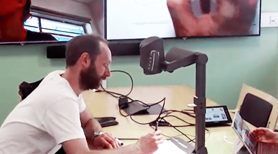 The Research Centre for Video has been involved in the video conference at AAU project over the last years, and has been asked to produce a set of guidelines based on our vast amount of empirical data from AAU staff and students, as well as from our own general experiences over the years - e.g. the AAU courses on video conference, with attendance from many different departments at AAU.
These guidelines contain "how to" material in relation to teaching via video at AAU. They are not explicit step-by-step instructions on the technology. Instead they provide a broad spectra of possibilities that members of staff can look into via the IT-departments own guidelines, the resources provided, and internet searches.
Please notice that ITS maintains a set of guides that focus on the technical aspects of using video conference systems - read on here.